Jason C. Zhang, L.Ac., A.P., M.D. (China)
Board Licensed Acupuncture physician in Florida State
Board Licensed Acupuncturist in New York State
Medical Doctor licensed in China
NCCAOM certified
Postdoctor in University of Houston, Texas


---


​ Dr. Jason C. Zhang is currently licensed and practicing as an A.P., L.Ac. in Florida. He has also practiced as an A.P., L.Ac. in Manhattan, New York as well. Previously, in China, He was a Traditional Chinese medicine doctor and Western Medical Doctor (M.D) for over 35 years. He is certified by the National Certification for Acupuncture and Oriental Medicine (NCCAOM). He graduated from Guangxi Medical University of China in 1982. In college, he also took courses in Chinese medicine, intensifying his interest in this field. He is a Western Medical Doctor (M.D.) and also a formal qualifications physician (surgeon) in China (His physician qualification is filed in the Ministry of Health of the People's Republic of China). He was a professor and Master Supervisor at Guangxi Medical University who taught anatomy and other sciences. He had a Postdoctoral Research Fellowship at the University of Houston College of Pharmacy. With more than 35 years altogether of clinical experience as both a Medical doctor in China and Traditional Chinese medicine doctor, he has gained great knowledge and experience, and he has become very effective in his treatments. He has developed special skills in Cosmetic Acupuncture, Auricular Acupuncture, Electro Acupuncture, Cupping, Gua Sha, and Tuina.

EDUCATION
1982 Medical Doctor, Guangxi Medical College, Nanning, China
1991 Master of Anatomy, Guangxi Medical University, Nanning, China
1992 Tuina Traditional Chinese Medicine Certificate, Nanning, China
2001 Postdoctoral Fellow, University of Houston College of Pharmacy, Houston, TX
2005 Tuina Traditional Chinese Medicine Continued Education Certificate, Renxin Occupational Training School of Tuina Cosmetology, First Hospital Affiliated of Guangxi Traditional Chinese Medical College, China
2008-2009 Certificate of Advanced Practice, First Hospital Affiliated of Guangxi Traditional Chinese Medical College, Nanning, China

In his free time, Dr. Zhang is a professional artist in painting, calligraphy, seal cutting, and miniature carving. If you are interested in the arts, go to jasoncz.artistwebsites.com . You will be surprised to discover his outstanding art work.


---

We Accept Most of Insurance


---

---

155 Blanding Blvd, Suites 8, Orange Park, FL 32073

---
Dr. Zhang has work with renowned Chinese medicine acupuncture professors in China

Huang Dingjian,

a famous Chinese medicine expert, is a Guangxi College of Traditional Chinese Medicine acupuncture professor and MA and PhD instructor; he is also the TCM chief physician, acupuncture and academic leader. He serves as Vice President of the Guangxi Acupuncture Society.

Pang Yong

is a professor of Guangxi Transitional Chinese Medical University, an MA and PhD instructor, and the Director for Department of Acupuncture

Yi guangqiang

is a professor of Guangxi Transitional Chinese Medical University, an MA, and PhD instructor. He is also licensed in the USA.

Tang Huashen

is the Director of Acupuncture Department of Guilin People's Hospital of China and the Vice President of Guangxi Acupuncture Association.
---
---
---
Cosmetologist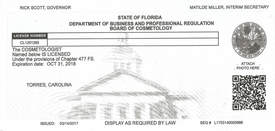 Torres Carolina: I have been a licensed cosmetologist since 2009. I have worked in full service salons offering all aspects of hair styling, manicures, pedicures, facials, and waxing. Over the years I have discovered the need for less chemicals in the beauty industry. My goal is to offer services that are as natural as possible and cater to clients with sensitivities. As I also suffer from chronic allergies, I understand the need for these services. I wish to be able to help bring balance to skin conditions and offer relaxation thru the right touch and intention. I am excited for the opportunity to work alongside my acupuncturist as I feel health and beauty go hand and hand.

---
---
---
---

---
---
* Results may vary from person to person